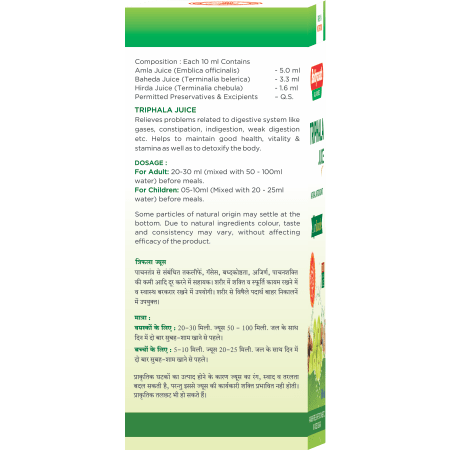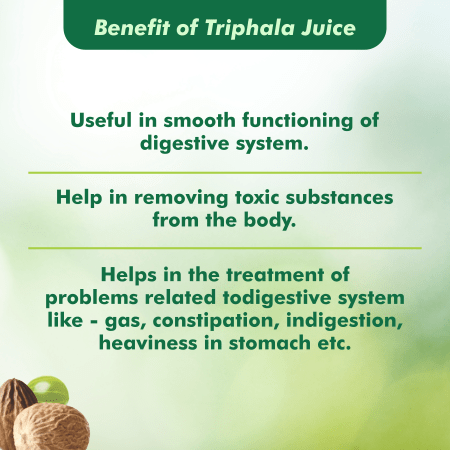 Baidyanath Triphala Juice (1 Liter)
Baidyanath Triphala Juice is a powerful herbal combination of the three most potent herbs that are extremely beneficial in eradicating toxins from the body. It contains Amla or Indian Gooseberry, a super fruit that has been considered the best of the Ayurvedic rejuvenative herb having antioxidant activity. It also has Haritaki (Terminalia chebula) and Behera (Terminalia belerica) which help in digestion and improves immunity. It contains various vitamins and minerals that your body needs for its well-being.
100 % Safe & Natural
No added Sugar
No Artificial Flavours
No Added Colours
TRIPHALA JUICE Single Pack- 1 Liter
Legal Metrology Info
Country of Origin: India
Expiry date: 1 years 11 months from the date of manufacturing
Registered Office: Siddhayu Ayurvedic Research Foundation Pvt Ltd, Shree Baidyanath Ayurved Bhawan, Great Nag Road, Nagpur, Maharastra 440024
For queries contact:
Customer care manager:
Contact no: 8550900761 /8448444935
Email id: care@baidyanath.info
Address: Shree Baidyanath Ayurved Bhawan, Great Nag Road, Nagpur, Maharastra 440024
Key Ingredients
Triphala (Amla, Beheda and Haritaki): Powerful antioxidant, acts as mild laxative, aids in digestion and detoxification and effective in acidity and acid reflux.
Benefits
Relieves problems related to the digestive system like gases, constipation, indigestion, weak digestion etc.
Helps to maintain good health, vitality and stamina as well as to detoxify the body.
Dosage
For Adults: 20-30 ml (mixed with 50-100 ml water) before meals.
For Children: 05-10 ml (mixed with 20-25 ml water) before meals.