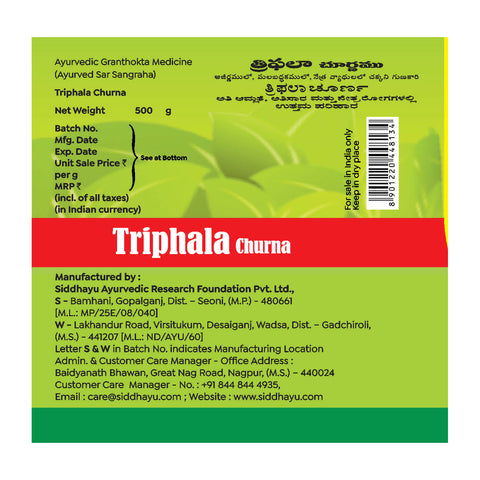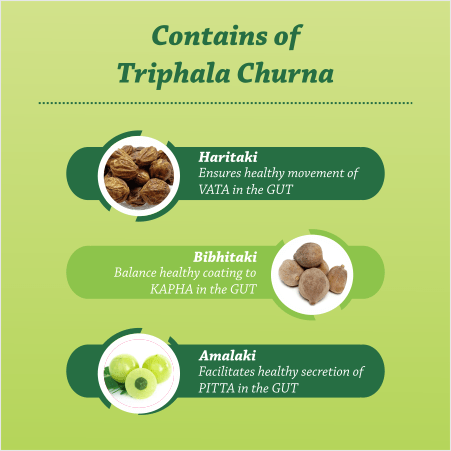 Baidyanath Triphala Churna Pack Of 2( 500 gm each)
Baidyanath Triphala churna is a classical preparation given in ayurvedic text. It is a combination of Haritaki (Terminalia chebula), Behera (Terminalia belerica) and Amla (Emblica officinalis) to relieve digestive problems and with rejuvenative, antioxidant and immunomodulatory action.
Legal Metrology Info
Country of Origin: India
Expiry date: 4 years 1 month from the date of manufacturing
Registered Office: Siddhayu Ayurvedic Research Foundation Pvt Ltd, Shree Baidyanath Ayurved Bhawan, Great Nag Road, Nagpur, Maharastra 440024
For queries contact:
Customer care manager:
Contact no: 8550900761 /8448444935
Email id: care@baidyanath.info
Address: Shree Baidyanath Ayurved Bhawan, Great Nag Road, Nagpur, Maharastra 440024
Key Ingredients
Amla (Emblica officinalis) is also known as Indian gooseberry. It has a high content of vitamin C and can be used either alone or in combination with other plants. Used as a laxative, liver tonic, for hair and eyes, antioxidant, cold and cough etc.
Haritaki or Harada (Terminalia chebula) known as "king of medicine." Haritaki is widely used to treat a variety of health issues including constipation, indigestion, gas etc.
Bibhitaki (Terminalia bellirica) a rejuvenator with detoxifying qualities.
Indications
Tones and strengthens the digestive system
Relieves constipation, gas, regularizes the bowel movement
Helps stimulate appetite
For weight management and detoxification of body
Useful to treat eye problems like strain in eyes, redness and improves the eye sight
Dosage
1 to 2 teaspoonful at bed time with lukewarm water or as advised by the physician.
Net Qty
Pack Of 2( 500 gm each)