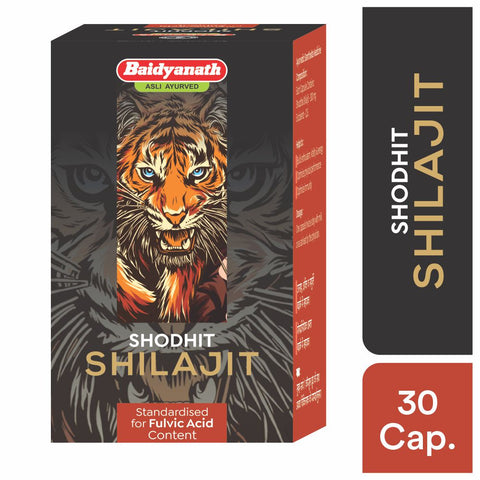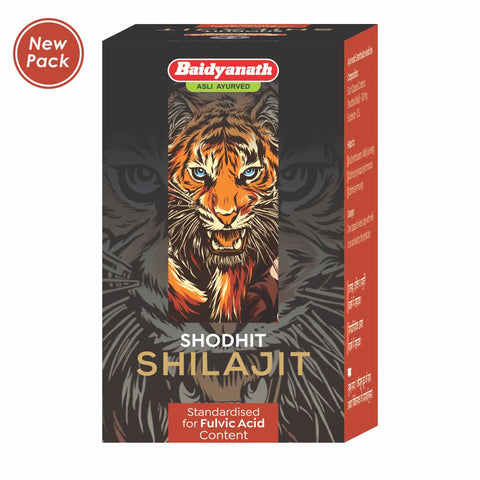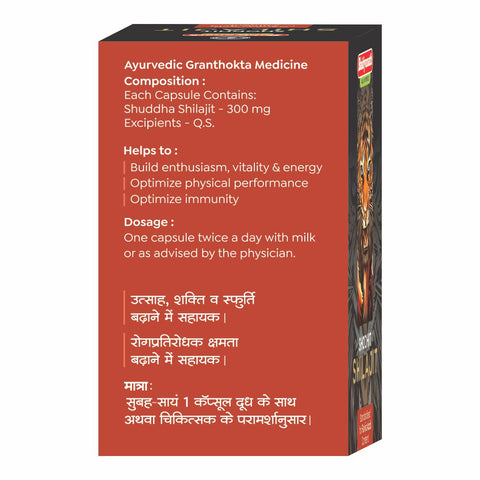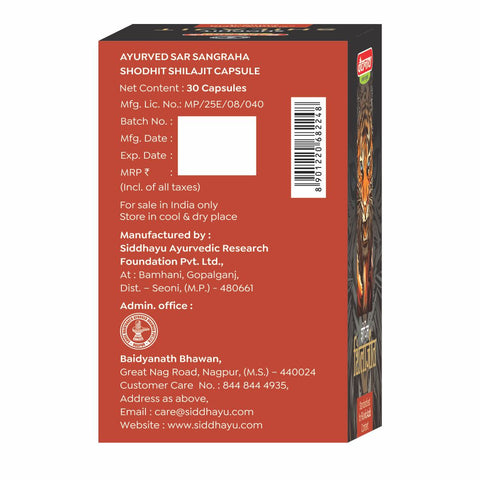 Baidyanath Shodhit Shilajit 30 Capsules
Shilajit (Asphaltum) is a highly potent rejuvenator, immunity booster and an anti-aging component known to mankind. We use only the purest Shilajit which contains more than 80 minerals in ionic form along with vitamins, phyto-nutrients and Fulvic acid. In ayurveda, Shilajit is known for general health and helps increase strength, stamina, vigor, and vitality.
Single Shilajit Pack – 30 capsules
Legal Metrology Info
Country of Origin: India
Expiry date: 4 years 11 months from the date of manufacturing
Registered Office: Siddhayu Ayurvedic Research Foundation Pvt Ltd, Shree Baidyanath Ayurved Bhawan, Great Nag Road, Nagpur, Maharastra 440024
For queries contact:
Customer care manager:
Contact no: 8550900761 /8448444935
Email id: care@baidyanath.info
Address: Shree Baidyanath Ayurved Bhawan, Great Nag Road, Nagpur, Maharastra 440024
Key Ingredients
Shilajit (Asphaltum): Act as Rasayana means increase vitality and stamina, immunity booster.
Benefits Of Key Ingredient
Shilajit (Silajatu or Asphaltum) is also known as mineral pitch, and is an Ayurvedic drug which stands true to the reputation of being an aphrodisiac with transformational effects on users' health, wellbeing and everyday life as well.
It helps to tonifies the activity of the seven body constituents (Saptha Dhatus) namely plasma, blood, muscle, fat, bone, bone marrow and reproductive fluids of the body.
The minerals in Shilajit provide powerful antioxidants in the body that scavenge free radicals and prevent degenerative changes in the body.
Being a Rasayana it helps to enhance performance and give a feeling of well-being.
Indications
Boosts stamina, strength and vitality
Immunomodulator
Useful to treat anemia and the problems related to increased blood sugar
Dosage
1 capsule with milk twice daily or as advised by physician.