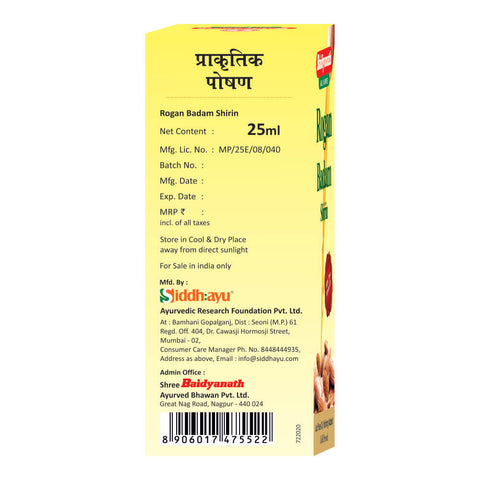 Baidyanath Shikakai And Bhringraj Nourishing Shampoo 450 ml + Baidyanath Amla and Hibiscus Nourishing Hair Conditioner 200ml + Baidyanath Rogan Badam 25ml
Strengthening properties of Shikakai and Bhringraj help tackle hair fall, scalp build-up and dull, weak hair
Improves hair strength, makes hair look silky, strong and beautiful
Nourishing properties of Amla and Hibiscus help to combat dryness, frizz and split ends
It offers re-hydration and long- lasting moisturization
Soothes and help to repair the hair and makes it stronger, shinier and softer
Rogan Badamis natural skin softener helps promote healthy and glowing skin
Badam oil Indicated in tickling cough, hoarseness, constipation and gastric troubles
Oil is easily absorbed by the skin, acts as an excellent moisturizer.
Kit Includes
Shikakai and Bhringraj Nourishing Shampoo 450 ml
Amla and Hibiscus Nourishing Hair Conditioner 200 ml
Rogan Badam 25ml
Legal Metrology Info
Country of Origin: India
Expiry date: 2 years 11 months from the date of manufacturing
Registered Office: Siddhayu Ayurvedic Research Foundation Pvt Ltd, Shree Baidyanath Ayurved Bhawan, Great Nag Road, Nagpur, Maharastra 440024
For queries contact:
Customer care manager:
Contact no: 8550900761 /8448444935
Email id: care@baidyanath.info
Address: Shree Baidyanath Ayurved Bhawan, Great Nag Road, Nagpur, Maharastra 440024
Key Ingredients
Turmeric (Curcuma longa): Anti-inflammatory, anti-allergic and antioxidant activity.
Nishoth (Operculinaturpethum): Kapha balancing property helps give relief from respiratory problems like cough, breathlessness caused due to excess mucus. It also has purgative property.
Haritaki (Terminaliachebula): It has antioxidant, antimicrobial, anti-inflammatory activity. It fights with skin allergies.
Mustaka (Cyperusrotundus): It has anthelmintic, analgesic and anti-inflammatory properties.
Chitrak (Plumbagozeylanica):It has immunomodulatory, anti-allergy, antioxidant and anti-inflammatory activity.
Vidang (Embeliaribes): It has antibacterial, anti-inflammatory, antifungal, antioxidant and anthelmintic activity.
Indications
Useful in urticaria, itching, worm, fungal infections, etc
It improves skin quality and complexion.
Dosage
1 to 2 teaspoonful twice a day with Luke warm water or milk or as directed by the physician.