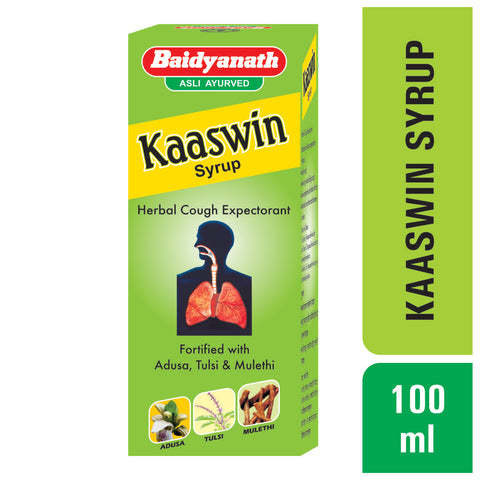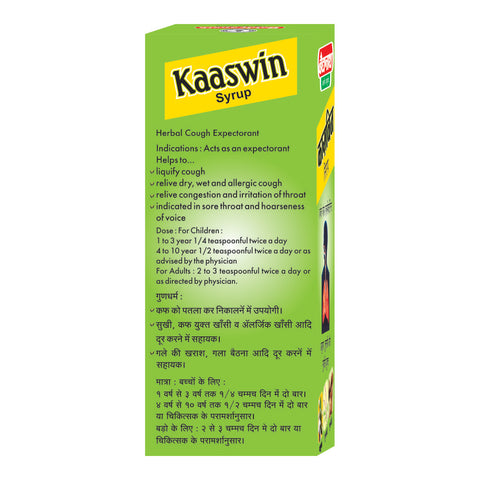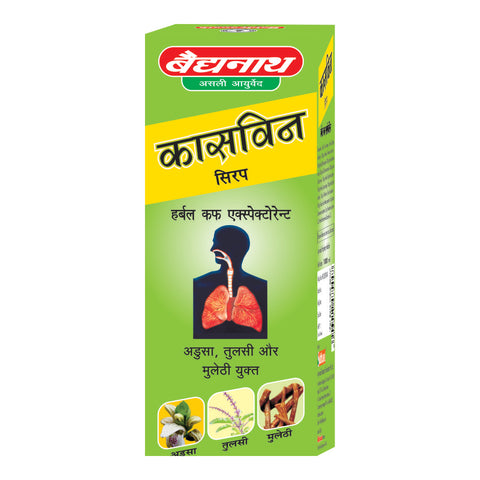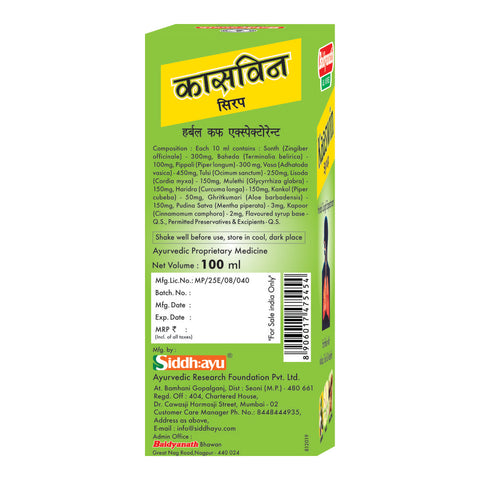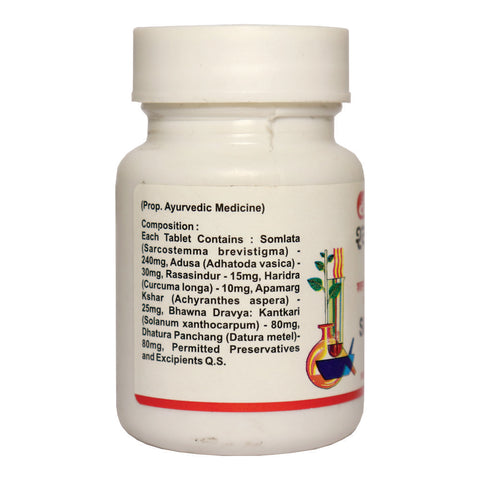 Baidyanath Respiratory Health Kit
An ideal kit to carry during seasonal changes! Baidyanath Respiratory Health Kit is an absolute approach for your entire family that gives relief from cold, cough and other respiratory allergies and infections which normally encountered during seasonal changes. Kit contains 3 highly trusted classical ayurvedic products available in pills, tablet, and syrup form like Kanthasudarak bati (Pills) for relieving irritation, pain, and inflammation associated with a sore throat, Kaaswin Syrup as Herbal Cough Expectorant and Shwaskalp Tablet is an excellent medicine for Respiratory Infections. Products are strictly prepared according to the ayurvedic text to maintain its efficacy.
KIT INCLUDES
KANTHASUDHARAK (Pack of 3- 1 gm each)
KAASWIN 100 ml
SHWASKALP TABLET (Pack of 2- 50 tablets each)
Legal Metrology Info
Country of Origin: India
Expiry date: 2 years 11 months from the date of manufacturing
Registered Office: Siddhayu Ayurvedic Research Foundation Pvt Ltd, Shree Baidyanath Ayurved Bhawan, Great Nag Road, Nagpur, Maharastra 440024
For queries contact:
Customer care manager:
Contact no: 8550900761 /8448444935
Email id: care@baidyanath.info
Address: Shree Baidyanath Ayurved Bhawan, Great Nag Road, Nagpur, Maharastra 440024
Product Info
KANTHASUDHARAK: Kanthasudharak Bati is an ayurvedic pills prepared from soothing and expectorant herbs like mulethi satva, peppermint, kapur, elaichi, long and javitri which gives relief in throat problems. It removes phlegm from the mouth and provides freshness. It reduces the stickiness and cough in the oral cavity. Kantasudharak bati is easy to carry and use and is suitable for all age groups.
KAASWIN: Kaaswin cough syrup is a non sedative, alcohol free herbal cough syrup with combination of powerful herbs which offers anti-tussive and expectorant actions. It contains the herbs with Anti-inflammatory, Antibacterial and Anti-allergic actions. Kaaswin also contains Vasaka and Kantakari which helps to ease the problems of cough, immunomodulatory activity of Mulethi helps to ensure long –term immunity against recurrence of respiratory tract infections.
SHWASKALP: Shwaskalp is a classical ayurvedic medicine works as mucolytic and breaks down the mucus and expels it from the respiratory tract. Excellent ayurvedic medicine used to relieve respiratory infections and the problems related to it like difficulty in breathing, cold, cough, weakness, throat pain, bodyache, loss of appetite etc.
Key Ingredients
KANTHASUDHARAK BATI: Mulethi (Glycyrrhiza glabra) is a very good expectorant, it expels phlegm from lungs, Camphor (Cinnamomum camphora) helps to clear the throat relieves mouth dryness and bad breath problems, Cardamon (Elettaria cardamomum) is useful in treatment of cough and cold, bad breath and other respiratory problems, Clove (Syzygium aromaticum) relieves tastelessness, bad breath and excessive sliminess of oral cavity.
KAASWIN: Mulethi (Glycyrrhiza glabra) as antioxidant reduces inflammation and helps to clear the mucus. Ensures long term immunity. Tulsi (Ocimum sanctum) is natural immunity booster dissolves mucus of chest and reduces cough, cold, fever and pain. Adulsa (Justicia adhatoda) relieves wet and dry cough. Sonth (Zingiber officinale) called dried ginger is an effective cure for indigestion, sore throat, cold and cough. Sonth has anti inflammatory properties which help to soothe sore throat and relive inflammation.
SHWASKALP: Somlata (Ephedra gerardiana)- It is used for allergies and hay fever, nasal congestion and respiratory tract conditions like bronchospasm, asthma, and bronchitis, Pipplamool (Piper longum) helps to control the symptoms of asthma and gives relief from breathlessness. It has decongestant, bronchodilator and expectorant activities. Ras Sindoor is an ayurvedic formulation that is known to be prepared from a mixture of herbs and minerals. It is used to treat the problems related to weakness, Haridra (Cucuma longa) contains curcumin which has anti inflammatory, antiviral and antibacterial properties. It is used in several conditions of dry cough.
Indications
KANTHASUDHARAK:
Relieves irritation, pain and inflammation associated with sore throat, hoarseness of voice.
KAASWIN SYRUP:
Acts as an expectorant
Helps to Liquefy cough, relieve Dry, Wet & Allergic cough
Relieves congestion & irritation of throat
Indicated in sore throat and hoarseness of voice
SHWASKALP:
Help to relieve the problems related to respiratory infections like difficulty in breathing, cough, throat pain, bodyache loss of appetite, debility etc.
Dosage
KANTHASUDHARAK: 1 to 2 pills to be chewed 5 to 6 times a day or as advised by the physician.
KAASWIN SYRUP:
For Adults: 2 to 3 teaspoonful twice a day or as advised by the physician.
For Children: 1 to 3 year: ¼ teaspoonful twice a day
4 to 10 years: 1/2 teaspoonful twice a day or as advised by the physician.
SHWASKALP: 1 tablet twice a day with warm water or as advised by the physician.