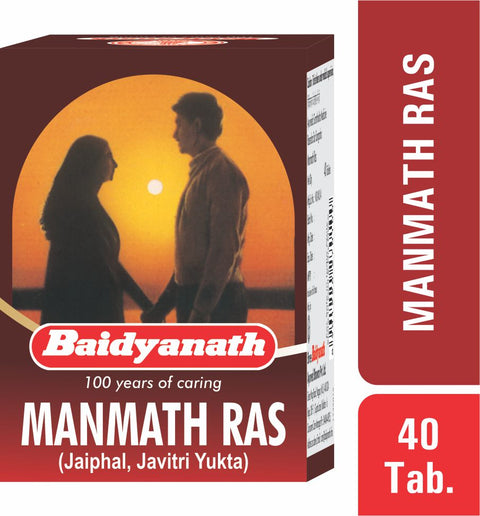 Baidyanath Manmath Ras - Pack Of 3 (40 Tabs In Each Pack)
Baidyanath Manmath Ras is a herbomineral classical Ayurvedic medicines in tablet form, widely used for improving vigor and strength in both men and women. It rejuvenates the body and provides strength and stamina. Aphrodisiac action of Manmath Ras is due to blend of ingredients like Abhrak bhasma which act as a rejuvenator and helps to reduce old age debility, Vidharikand are aphrodisiac, rejuvenator and nervine tonic while Shatavari act as an Adaptogenic herb, helps to reduce physical and mental stress.
Legal Metrology Info
Country of Origin: India
Expiry date: 4 years 11 months from the date of manufacturing
Registered Office: Siddhayu Ayurvedic Research Foundation Pvt Ltd, Shree Baidyanath Ayurved Bhawan, Great Nag Road, Nagpur, Maharastra 440024
For queries contact:
Customer care manager:
Contact no: 8550900761 /8448444935
Email id: care@baidyanath.info
Address: Shree Baidyanath Ayurved Bhawan, Great Nag Road, Nagpur, Maharastra 440024
Key Ingredients
Abhrak Bhasma (Mica):
Helps to reduce old age debility, as aphrodisiac, astringent and restorative (powerful cell regenerator). Helps to promote vigour and vitality.
Shatavari (Asparagus racemosus):
Shatavari is a well-known in the indigenous system of medicine which helps prevent ageing, increase longevity, impart immunity, improve mental function, vigour and add vitality to the body.
Known as Rasayana, which helps in promoting general well-being by increasing cellular vitality and resistance and act as a health tonic.
Stress is the major factor which hampered the sexual activity; Shatavari being an Adaptogenic agent reduces mental and physical stress and helps to improve sex drive and performance.
Vidarikand (Pueraria tuberosa):
Powerful aphrodisiac
Acts as an rejuvenator
It helps to strengthen the reproductive system
Indications
Energetic tonic for both men and women
Useful to treat debility
Helps to maintain vitality and stamina and to improve working capacity
Dosage
1 tablet twice a day with milk or as advised by the physician.