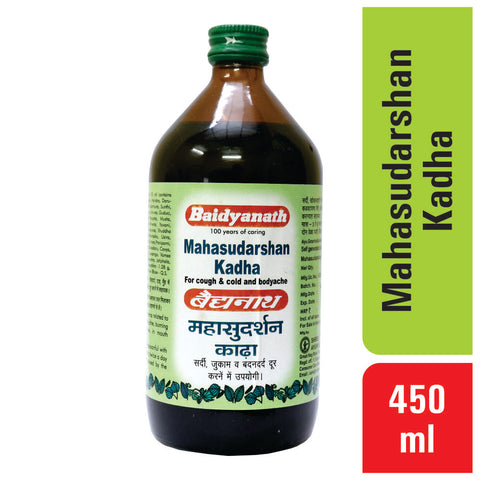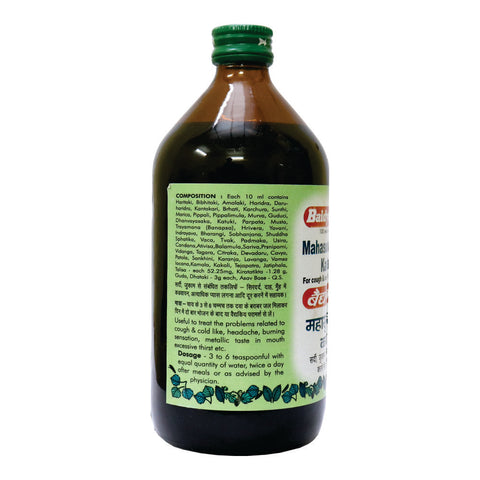 Baidyanath Mahasudarshan Kadha - 450 ml
(For Cough, Cold and Bodyache)
Ayu. Granthokta Medicine
(Siddhayog Sangraha)
Mahasudarshan Kadha is an Ayurvedic medicine formulated with decoction of 52 herbs having antibacterial, antimicrobial and antiviral properties. It has Tridosha Shamak action, so it balances Vata, Pitta and Kapha Dosha. It induces detoxification by digesting AMA (toxin particles developed from undigested food) and clearing the blockage of microchannels in the body which induces sweating. Triple action formula helps to relieve cough, cold and body ache.
MAHASUDARSHAN KADHA Single Pack – 450 ml
Legal Metrology Info
Country of Origin: India
Expiry date:10 years 5 months from the date of manufacturing
Registered Office: Siddhayu Ayurvedic Research Foundation Pvt Ltd, Shree Baidyanath Ayurved Bhawan, Great Nag Road, Nagpur, Maharastra 440024
For queries contact:
Customer care manager:
Contact no: 8550900761 /8448444935
Email id: care@baidyanath.info
Address: Shree Baidyanath Ayurved Bhawan, Great Nag Road, Nagpur, Maharastra 440024
Key Ingredients
Giloy (Tinosporacordifolia): Potent immunity booster, increases the body's ability to fight against chronic and recurrent infections.
Kutki (Picrorhiza kurroa): Helps to remove intestinal worms from the body.
Haritaki (Terminalia chebula): Haritaki is traditionally used as a remedy for all Vata disturbances, including constipation, emaciation, flatulence and indigestion. Based on its comprehensive properties, it promotes appetite and helps in proper digestion.
Kalmegh: is a plant which is also known as "Green Chiretta" and the "King of Bitters". It is used for various medicinal purposes and is bitter in taste.
Javitri (Nutmeg) :Has aphrodisiac activity
Indications
· useful to treat the problems related to cough and cold like headache
· relieves from burning sensation
· relieves from metallic taste in mouth
· relieves from excessive thirst
Dosage
3 to 6 teaspoonful with equal quantity of water, twice a day after meals or as advised by the physician.
Net Qty
Single Pack- 450 ml