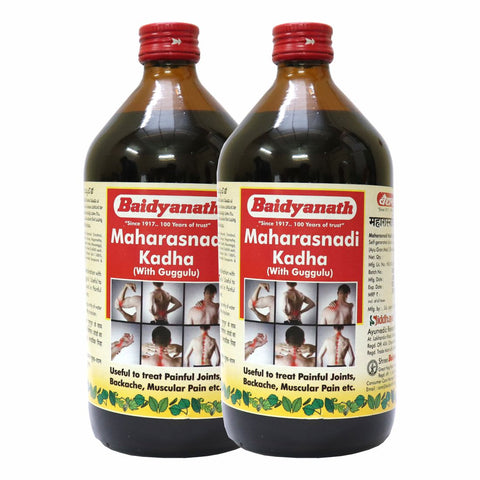 Baidyanath Maharasnadi Kadha (450 ml)
Maharasnadi Syrup is a decoction of 30 potent botanical herbs, a well known ayurvedic medicine most effective in relieving joint pain. It combines one of the world famous herb Rasna (Pluchea lanceolata) for knee pain with other traditional herbs which helps in reducing stiffness of joints and strengthen the nerves. Rasna is a dried leaf used in vitiated conditions of Kapha and Vata that helps in reducing inflammation and also relaxes muscles.
Legal Metrology Info
Country of Origin: India
Expiry date: 9 years 8 months from the date of manufacturing
Registered Office: Siddhayu Ayurvedic Research Foundation Pvt Ltd, Shree Baidyanath Ayurved Bhawan, Great Nag Road, Nagpur, Maharastra 440024
For queries contact:
Customer care manager:
Contact no: 8550900761 /8448444935
Email id: care@baidyanath.info
Address: Shree Baidyanath Ayurved Bhawan, Great Nag Road, Nagpur, Maharastra 440024
Key Ingredients
Rasna (Pluchea lanceolata): It has anti inflammatory and analgesic properties and is extremely beneficial in managing arthritis as it reduces inflammation and joint pain.
Guggulu (Tinospora cordifolia): Effective in all types of pain and vat disorders like sciatica, knee stiffness, and pain in the lumbo sacral region. It also relieves neck stiffness and cervical pain.
Indications
Useful to treat all Chronic Vat diseases.
Used in painful joints, Backache, Muscular pain etc.
Dosage
3 to 6 teaspoonful with equal quantity of water or as advised by the physician.
Net Qty
Single Pack- 450 ml