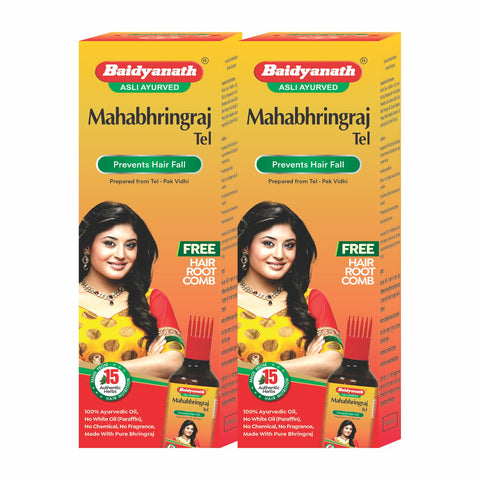 Baidyanath Mahabhringraj Tel (200 ml)
Mahabhringraj Tel is pure Ayurvedic chemical free nourishing hair oil, made scientifically with goodness of Bhringraj, an herb which is known in Ayurveda as 'Keshraj'- king of hair, which helps your hair grow longer and healthier.
The tail is prepared by Traditional Ayurvedic methods (Tel-Pak vidhi) with a combination of 15 valuable clinically proven herbs dipped in pure Til tail (Sesame oil). This process with till tel as base oil will help to extract the entire medicinal qualities from the herbs giving us potent Mahabhringraj tel. Regular gentle massage of this therapeutic hair oil on the scalp will help control hair fall, strengthen hair from their roots, and is a helpful remedy for Dandruff.
It's a 100 % Natural formulation free from mineral oils, No silicone, No synthetic colors and fragrances
Prevents Hair fall
Helps get rid of Dandruff
Strengthen hair from their roots and promotes hair growth
Nourish your hair naturally by adding extra shine and lustre to the dull and lifeless hair
Legal Metrology Info
Country of Origin: India
Expiry date: 2 years 11 months from the date of manufacturing
Registered Office: Siddhayu Ayurvedic Research Foundation Pvt Ltd, Shree Baidyanath Ayurved Bhawan, Great Nag Road, Nagpur, Maharastra 440024
For queries contact:
Customer care manager:
Contact no: 8550900761 /8448444935
Email id: care@baidyanath.info
Address: Shree Baidyanath Ayurved Bhawan, Great Nag Road, Nagpur, Maharastra 440024
Key Ingredients
Bhringraj————————— For Hair growth
Haridra —————————- Anti Dandruff
Nagkesar————————— As a Antifungal
Manjishtha————————– Nourishment of hair
Bhringraj (Eclipta alba)
In Ayurveda it is called as Keshya (promotes hair growth).
It helps improve hair growth, prevents hair fall and treats premature graying of hair.
Bhringraj contains vit. E, which is known to fight free radicals that can impede hair growth.
Haridra (Curcuma longa):
Turmeric serves as a natural cleanser for your scalp and helps in getting rid of dandruff.
Many scalp conditions, such as eczema and skin fungal infections can be easily encountered by using Haldi. It also helps to treat thinning hair, itching and inflammation.
The antibacterial, anti-allergic, antioxidant, and antiseptic properties of turmeric are the key traits of this plant, which help to clear up the scalp, reducing the chance of poor scalp condition.
Nagkesar (Mesua ferrea)
Nagkesar is widely used in the Ayurvedic formulations for hair treatment.
It stimulates deep in the hair roots and works on the sebaceous glands to promote new hair growth.
It also has antibacterial and antifungal activity which helps to reduce bacterial growth and dandruff on scalp.
Manjishta (Rubia cordifolia)
Commonly known as Manjit, manistha and majith it's dry root and stem contains the colouring matter which is a mixture of Purpurin, Manjistin and Alizarin and glycosides are also present in the plant.
Due to stressful life and many other factors, hair reduces its shining, texture and colour in which manjistha – rich in nutrients and active constituents helps to reduce premature greying of hair, hair falls and give shining and nourishment to hairs.
How To Use
Apply on the scalp with your fingers tips and massage gently for 5-10 minutes in the morning. Keep it on for an hour or more. Then wash with mild herbal shampoo. Initially used daily for 3-4 week, thereafter use 2-3 times a week.
Indications
As prepared by Kshirpak vidhi, helps in facilitating the growth hormones in hair follicle, hence helps to prevent hair loss
For healthy scalp and follicle
Suitable for dry , damaged and normal hair
For smoother and softer hair texture and to get rid of Dandruff
Promotes hair growth, thickness and strength
Imparts lustre and shine to hair