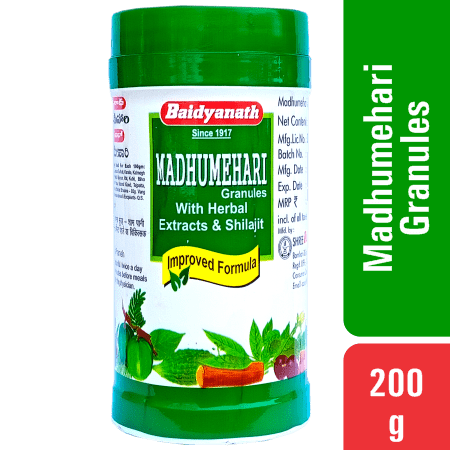 Baidyanath Madhumehari Granules
Baidyanath Madhumehari Granules act with a higher efficacy in blood sugar management. It contains the combination of super herbs known for their blood sugar regulating activity.
A unique blend of gudmar, karela and jamun seeds helps to regulate increased blood sugar level.
Kutki, haldi and kalmegh helps to tone up metabolism. Giloy and shilajit, the content of Madhumehari granules acts as a Rasayan, hence helps to increase immunity.
Legal Metrology Info
Country of Origin: India
Expiry date: 2 years 11 months from the date of manufacturing
Registered Office: Siddhayu Ayurvedic Research Foundation Pvt Ltd, Shree Baidyanath Ayurved Bhawan, Great Nag Road, Nagpur, Maharastra 440024
For queries contact:
Customer care manager:
Contact no: 8550900761 /8448444935
Email id: care@baidyanath.info
Address: Shree Baidyanath Ayurved Bhawan, Great Nag Road, Nagpur, Maharastra 440024
Key Ingredients
Gudmar (Gymnema sylvestre):
Also known as "sugar killer/ destroyer of sugar"
Contains gymnemic acid which neutralizes excess sugar present in the body
Helpful in correcting metabolic liver dysfunction
Karela (Momordica charantia):
Known to be highly beneficial for diabetics due to charatin and momordicin present in karela
Antioxidant
Decreases plasma cholesterol and triglycerides
Jamun Seeds (Eugenia jumbolana):
Fruit is of low glycemic index which keeps blood sugar level under check as well as cures common symptoms and complications like excessive thirst, urination etc.
Seeds contain glucoside, jamboline and ellagic acid which has ability to check the conversion of starch into sugar in case of excess production of glucose
Giloy (Tinospora cordifolia) :
Shilajit (Asphaltum):
Act as Rasayana means increase vitality and stamina, immunity booster and maintain muscle strength
Indications
The blend of all the ingredients of Madhumehari granules helps to regulate blood sugar levels and problems related to it like fatigue, debility, frequent urination, excessive thirst etc.
Helps to improve stamina and immunity of diabetics.
Dosage
2 teaspoonful twice a day with water 10 minutes before meals or as advised by the physician.