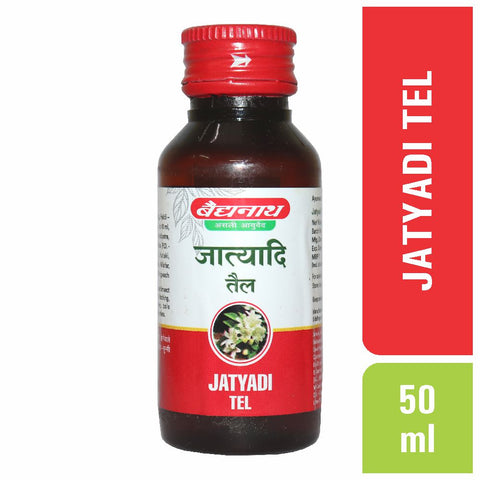 Baidyanath Jatyadi Tel - Pack Of 2 (50ml Each)
Ayurvedic Granthokta Medicine
Jatyadi tel is a well-known classical Ayurvedic preparation for external application that helps to treat insect bites and related problems. It has been used for generations for applying on boils, cuts, wounds and burns, piles and fistula. The excellent Wound healing property of Jatyadi oil helps to heal the wounds in piles and alleviates itching, pain, discomfort and irritation in the anal region.
Legal Metrology Info
Country of Origin: India
Expiry date: 1 year 11 months from the date of manufacturing
Registered Office: Siddhayu Ayurvedic Research Foundation Pvt Ltd, Shree Baidyanath Ayurved Bhawan, Great Nag Road, Nagpur, Maharastra 440024
For queries contact:
Customer care manager:
Contact no: 8550900761 /8448444935
Email id: care@baidyanath.info
Address: Shree Baidyanath Ayurved Bhawan, Great Nag Road, Nagpur, Maharastra 440024
Key Ingredients
Manjishta (Rubia cordifolia):It has anti-inflammatory and analgesic properties. It promotes the healing of skin tissues damaged by injury or infection
Patolpatra (Trichosanthes dioica)has laxative activity and gives relief from constipation
Mulethi (Glycyrrhiza glabra): Combats dry skin, rashes, itchiness and inflammation
Neem leaves (Azadirachta indica): ): It has antibacterial, astringent and cooling properties
Indications
Application is useful to treat insect bites and their related problems like itching inflammation, pain, burning sensation, boils etc.
Useful to treat minor burns and injuries..
It is also beneficial in the management of piles, fistula and the problems associated with it like pain, itching, burning sensation and discomfort in the anal region.
Dosage
As advised by the physician
Pack Size
Pack of 2 (50 ml Each)