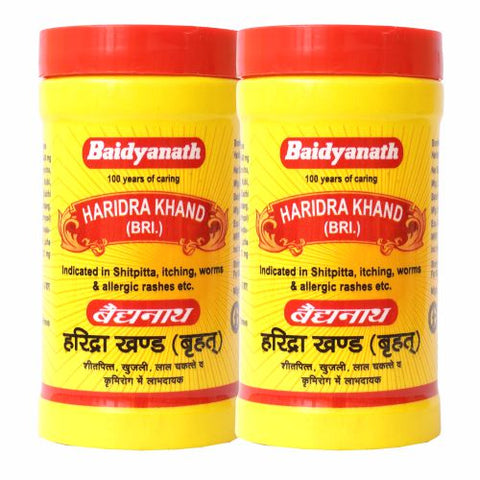 Baidyanath Haridrakhand – 100g
Baidyanath Haridrakhand is a time tested Ayurvedic medicine widely used in the treatment of skin allergies and skin diseases. It contains the proven ingredient Turmeric or haldi, – well known for its natural antioxidant, anti-inflammatory and anti-allergic activities.
Legal Metrology Info
Country of Origin: India
Expiry date: 2 years 11 months from the date of manufacturing
Registered Office: Siddhayu Ayurvedic Research Foundation Pvt Ltd, Shree Baidyanath Ayurved Bhawan, Great Nag Road, Nagpur, Maharastra 440024
For queries contact:
Customer care manager:
Contact no: 8550900761 /8448444935
Email id: care@baidyanath.info
Address: Shree Baidyanath Ayurved Bhawan, Great Nag Road, Nagpur, Maharastra 440024
Key Ingredients
Turmeric (Curcuma longa): Anti-inflammatory, anti-allergic and antioxidant activity.
Nishoth (Operculinaturpethum): Kapha balancing property helps give relief from respiratory problems like cough, breathlessness caused due to excess mucus. It also has purgative property.
Haritaki (Terminaliachebula): It has antioxidant, antimicrobial, anti-inflammatory activity. It fights with skin allergies.
Mustaka (Cyperusrotundus): It has anthelmintic, analgesic and anti-inflammatory properties.
Chitrak (Plumbagozeylanica):It has immunomodulatory, anti-allergy, antioxidant and anti-inflammatory activity.
Vidang (Embeliaribes): It has antibacterial, anti-inflammatory, antifungal, antioxidant and anthelmintic activity.
Indications
Useful in urticaria, itching, worm, fungal infections, etc
It improves skin quality and complexion.
Dosage
1 to 2 teaspoonful twice a day with Luke warm water or milk or as directed by the physician.