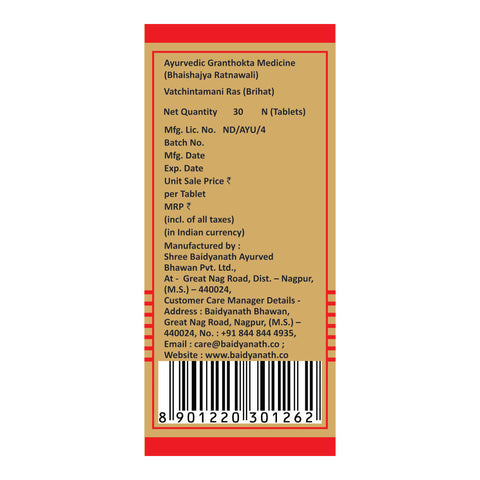 Baidyanath Vatchintamani Ras (Brihat) - 30 Tablets
Rs. 3,365.00
Rs. 4,180.00
(Bhaishajya Ratanavali)
Baidyanath Vatchintamani Ras is the classical Ayurvedic medicine specially formulated for the management of chronic vat diseases. Highly efficacious formula prepared with combinations of six potent bhasma that provides relief from debility related to chronic vat diseases and relieves other problems related to it.
To be taken under medical supervision.
Legal Metrology Info
Country of Origin: India
Expiry date: 4 years and 11 months from the date of manufacturing
Registered Office: Siddhayu Ayurvedic Research Foundation Pvt Ltd, Shree Baidyanath Ayurved Bhawan, Great Nag Road, Nagpur, Maharastra 440024
For queries contact:
Customer care manager:
Contact no: 8550900761 /8448444935
Email id: care@baidyanath.info
Address: Shree Baidyanath Ayurved Bhawan, Great Nag Road, Nagpur, Maharastra 440024
Key Ingredients
Swarna Bhasma (Gold): Boost immunity. Gold Salts often arrest the progression of the disease in involved joints at least temporarily. Prevent involvement of unaffected joints. Improves grip and strength. Ref: The Pharmacological basis of therapeutics- GOODMAN GILLMAN.
Rajat Bhasma: Indicated in numbness or pain in the affected muscles, Stiffness and weakness in muscles.
Moti bhasma: Hyperacidity, pacifies pitta dosha
Lauh bhasma: Useful in general debility
Indications
Useful to treat chronic vat diseases.
Helps to relieve debility related to vat diseases.
Indicated in backache, body ache, knee joint pain etc.
Dosage
1 tablet twice a day with honey or as advised by the physician.