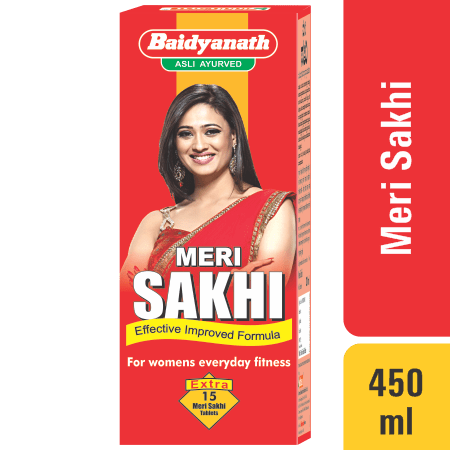 Baidyanath Meri Sakhi
An exclusive Asav based ayurvedic formulation for women formulated by keeping in view their special needs during menstruation. It purifies blood, tones up skin, builds up strength and stamina and keeps women healthy and active throughout the month.
Legal Metrology Info
Country of Origin: India
Expiry date: 2 years 11 months from the date of manufacturing
Registered Office: Siddhayu Ayurvedic Research Foundation Pvt Ltd, Shree Baidyanath Ayurved Bhawan, Great Nag Road, Nagpur, Maharastra 440024
For queries contact:
Customer care manager:
Contact no: 8550900761 /8448444935
Email id: care@baidyanath.info
Address: Shree Baidyanath Ayurved Bhawan, Great Nag Road, Nagpur, Maharastra 440024
Key Ingredients
Ashok Chhal: It gives the desired effect in regulating estrogen level and to repair endometrium. Phytoestrogen present in Saraca asoca helps to maintain the hormonal balance in a natural way.
Amla (Emblicaofficinalis): Improves overall health and immunity
Sunthi (Zingiber officinale): Helps to relieve pain and spasms
Lodha Chhal: It is among the best ayurvedic herbs to alleviate all the health issues of females. Useful in menorrhagia (excessive bleeding in menstruation), it relaxes the uterine tissues and acts on relaxed mucus membranes.
Dhaiphool: Helps reduce menstrual pain. Also boost up immunity and overall health.
Nagarmotha: Regulates menstruation, and is effective for signs such as menstrual irregularities, overdue periods and abdominal pain during menstruation, and depression in emotionally inhibited women.
Indications
Helps relieve the problems like weakness, backache, pain, fatigue etc.
Helps the women to keep healthy and active throughout the month
Dosage
2-3 teaspoonful twice a day with equal quantity of water after meals along with Meri Sakhi tablet (1 tablet twice daily with water for 7 days) or as advised by the physician.