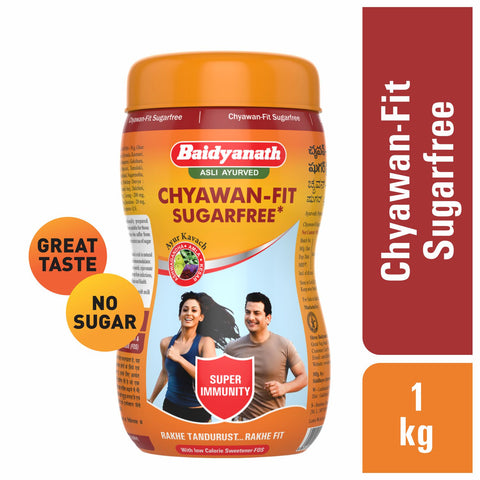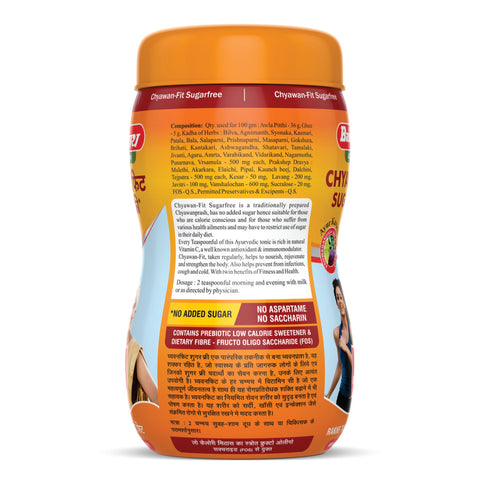 Baidyanath Chyawanfit Sugar Free – Pack Of 2 (1kg Each)
Chyawan-Fit sugar-free is a traditionally prepared Chyawanprash, with a combination of 35 herbs. Enriched with the goodness of amla (Emblica officinalis), which is one of the richest sources of vitamin C. Contains FOS (FructoOligosachharides) is a Natural sweetener hence is suitable for those who are calorie conscious and for those who suffer from various health ailments and may have to restrict the use of sugar in their daily diet
Here, Baidyanath comes with Sugar-free Chyawanprash, especially for calorie-conscious people and diabetics with the use of natural sweetner as FOS (Fructo Oligosachharides).
Benefits of FOS as a Natual sweetner: (As per scientific literatures)
Fructo oligosaccharides are subtly sweet and low-calorie. They are non digestible, so they don't have an effect on blood sugar levels
Protects against unhealthy bacteria
It is good source of fiber. Hence, helps to reduce or eliminate constipation
Legal Metrology Info
Country of Origin: India
Expiry date: 2 years 11 months from the date of manufacturing
Registered Office: Siddhayu Ayurvedic Research Foundation Pvt Ltd, Shri Ayurvedic Baidyanath Bhawan, Great Nag Road, Nagpur, Maharastra 440024
For queries contact:
Customer care manager:
Contact no: 8550900761 /8448444935
Email id: care@baidyanath.info
Address: Baidyanath Bhawan, Great Nag Road, Nagpur, Maharastra 440024
Key Ingredients
Amla (Embelica officinalis) ———-Immunomodulator, antioxidant, Constipation, memory Booster.
Bilva (Aegle marmelos) ——————- Digestion enhancer
Agnimantha (Clerodendrum phlomidis) ——— Indigestion and constipation.
Kasmari (Gmelina arborea) ————– Antioxidant and Immunomodulator
Bala (Sida cordifolia) ———————- antioxidant and liver protective activity.
Indications
Gives energy and stamina to diabetics
Boosts immunity naturally
Acts as an antioxidant
Dosage
2 teaspoonful morning and evening with milk, or as directed by the Physician
Net Qty
Pack of 2 (1 kg Each)