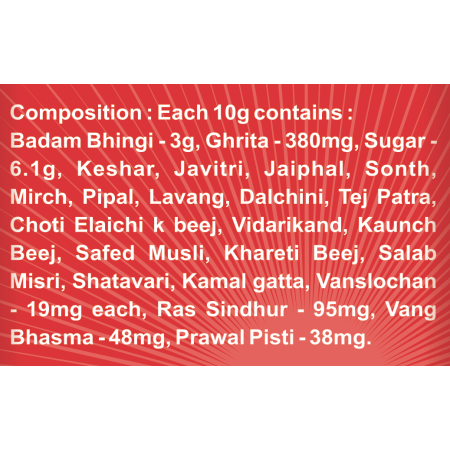 BADAM PAK - Pack of 2 (100 g Each)
Granthokta Ayurvedic Medicine
(Ayurved Sar Sangraha)
Badam Pak is a classical ayurvedic preparation in powdered form made from best quality almonds. Holistic herbal formula designed to promote balance of emotions during time of stress and maintain a healthy body and mind. Acts as an anti-stress, memory booster, antioxidant and neuroprotective (agents protect the nerves).
We use only the best quality and authenticated Almonds in our formulation for more efficacies.
Legal Metrology Info
Country of Origin: India
Expiry date: 09 years 02 months from the date of manufacturing
Registered Office: Siddhayu Ayurvedic Research Foundation Pvt Ltd, Shree Baidyanath Ayurved Bhawan, Great Nag Road, Nagpur, Maharastra 440024
For queries contact:
Customer care manager:
Contact no: 8550900761 /8448444935
Email id: care@baidyanath.info
Address: Shree Baidyanath Ayurved Bhawan, Great Nag Road, Nagpur, Maharastra 440024
Key Ingredients
Badam(Almonds): Memory booster, antistress, supports healthy heart and anemia (deficiency of iron). Also helps to relieve physical weakness.
Vang bhasma(Tin calx): Provides strength to body, improves digestion and relieves burning sensation of the body.
Safed musli(Chlorophytum borivilianum): It has an androgenic property; therefore, it is helpful in building strength and stamina.
Indications
Gives energy and strength to heart and mind
Helps to maintain vitality and stamina
Reduces mental lethargy and fatigue
Helps to provide relax energetic mind
Dosage
2 to 4 teaspoon twice a day with warm milk or as directed by the physician.