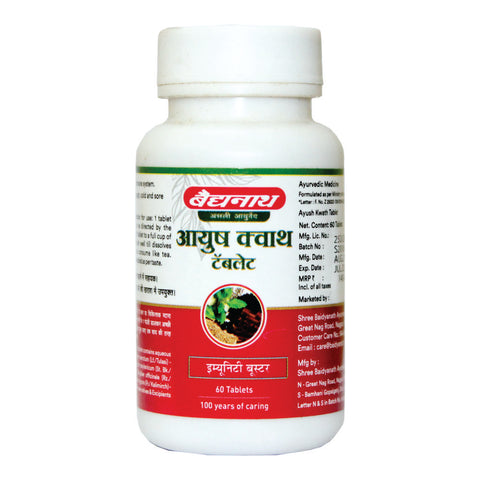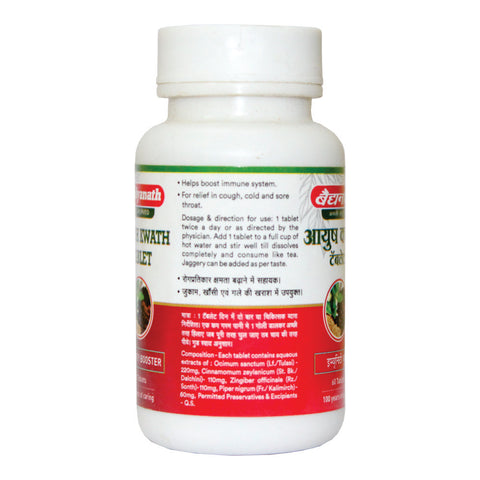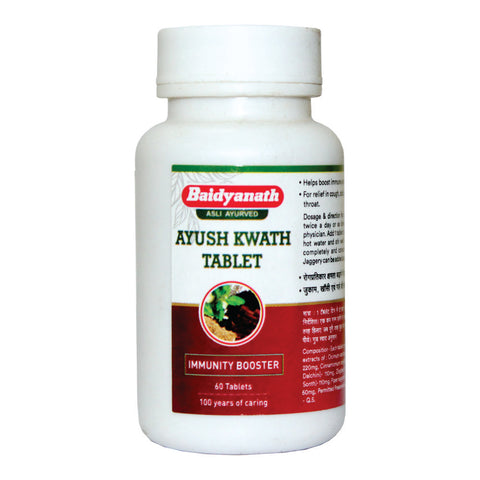 Baidyanath Ayush Kwath Tablet Pack Of 2 (60 Tablets each)
A natural immunity booster Ayush kwath Tablet is beneficial in cold, cough and fever. Specially prepared as per the formulation of AYUSH Ministry, Govt. of India to boost immunity of respiratory tract.
Legal Metrology Info
Country of Origin: India
Expiry date: 2 year 11 months from the date of manufacturing
Registered Office: Siddhayu Ayurvedic Research Foundation Pvt Ltd, Shree Baidyanath Ayurved Bhawan, Great Nag Road, Nagpur, Maharastra 440024
For queries contact:
Customer care manager:
Contact no: 8550900761 /8448444935
Email id: care@baidyanath.info
Address: Shree Baidyanath Ayurved Bhawan, Great Nag Road, Nagpur, Maharastra 440024
Key Ingredients
Tulsi (Ocimum sanctum):

Rich in vitamins A, C and K and minerals like calcium, magnesium, phosphorus, iron and potassium. Natural immunity booster dissolves mucus of chest and reduces cough, cold, fever and pain.

Dalchini (Cinnamomum verum):

Relieves cold and soothes sore throat. It is rich in antioxidant polyphenols and proanthocyanidins that boost your immunity naturally. It is also packed with antiviral, antibacterial and antifungal properties.

Suntha (Zingiber officinale):

The anti-inflammatory gingerols and shaogals present in ginger root help relieve common cold. Used as appetizer as well as immunity booster. It also relieves upset stomach by neutralizing the digestive juices and further stimulates food digestion.

Kali Mirch (Piper nigrum):

It is known to alleviate chest congestion and declog nose. Enriched with vitamin C, which naturally boosts immunity and works as an excellent antibiotic.
Indications
Immunity Booster for good health
For people prone to respiratory infections
For cough, cold and sore throat
Dosage
1 tablet twice a day with water.