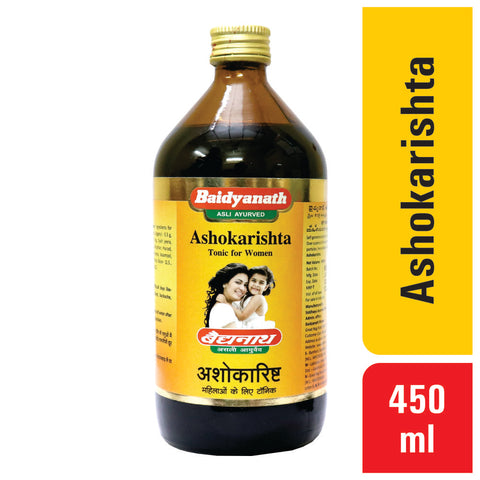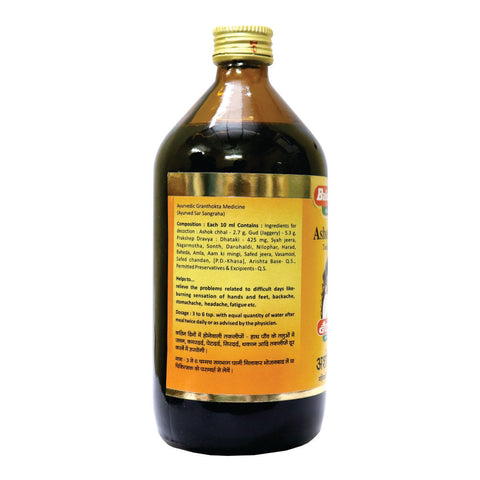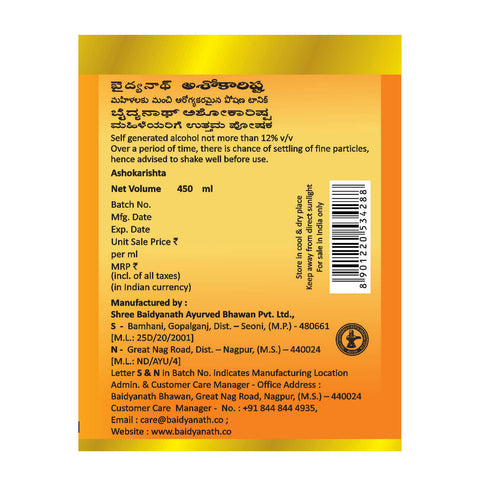 Baidyanath Ashokarishta (450ml)
Baidyanath Ashokarishta is a time tested ayurvedic classical formulation to maintain healthy menstrual cycle. Ashoka (Saraca asoca) the key ingredient of ashokarishta contains phytoesytrogen, thus maintains hormonal level naturally. Ashoka along with all astringent herbs has an efficacy to relieve the problems of Menorrhagia, Metrorrhagia and Dysmenorrhea.
Ashokarishta not only corrects the menstrual problem but also acts as a tonic.
Non – Hormonal and safe.
Legal Metrology Info
Country of Origin: India
Expiry date: 9 years from the date of manufacturing
Registered Office: Siddhayu Ayurvedic Research Foundation Pvt Ltd, Shree Baidyanath Ayurved Bhawan, Great Nag Road, Nagpur, Maharastra 440024
For queries contact:
Customer care manager:
Contact no: 8550900761 /8448444935
Email id: care@baidyanath.info
Address: Shree Baidyanath Ayurved Bhawan, Great Nag Road, Nagpur, Maharastra 440024
Key Ingredients
Ashok chhal (Saraca asoca) — It gives the desire effect in regulating estrogen level and to repair endometrium. Phytoestrogen present in Saraca asoca helps to maintain the hormonal balance in a natural way.
Dhataki (Woodfordia fruticosa) — Helps in reducing excessive bleeding
Amla (Emblica officinalis) — Improves overall health and immunity
Sunthi (Zingiber officinale) — Helps to relieve pain and spasms
Indications
Ashokarishta related to menarche
Regulates menstrual cycle
Treats dysfunction uterine bleeding
Relieves the distress of Dysmenorrhea
Ashokarishta related to Womanhood
Tackles Metrorrhagia and Dysmenorrhea
Prevents secondary a menorrhoea
Encourages timely ovulation
Ashokarishta related to Menopause
Relieves the menopausal disturbances such as hot flushes, fatigue, anxiety, irritation etc.
Slows down a tropic changes in vagina
Ashokarishta related to Dysmenorrhea
Relieves the problems related to Dysmenorrhea like, backache, stomachache, fatigue, nausea, loss of appetite, burning sensation in eyes
Relieves spasm and pain
Reduces inflammation of internal organ
Ashokarishta as a tonic
Regulates menstrual cycle
Useful to treat disturbed sleep, irritation, fatigue etc.
Helps to maintain vitality and stamina
Improves complexion
Major Highlights
Ashok and Lodhra in it, helps to correct the hormonal in balance and to relieve the problems of Dysmenorrhea
Khareti Panchang, Amgiri, Badi Elaichi, Amla, Anantmool helps to relieve pelvic congestion
Mannuka, Sonth, Lavang, helps to overcome the digestive problems
Hirada, Behada, Awla in it, helps for detoxification
Kamalphool, Awla, Safed Chandan are Pittshamak, hence relieves the problem occurring due to excessive heat like inflammation,burning sensation, irritation etc.
Dosage
3 to 6 tsp. with equal quantity of water after meal twice daily or as advised by the physician. Start the product from fifth day of menstrual cycle.
For better result, take it for 3 months (3 menstrual cycles).