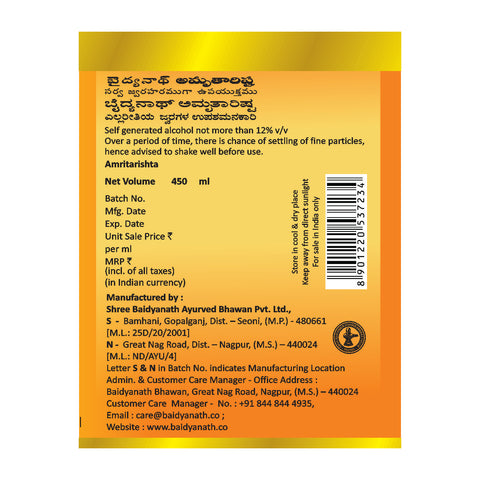 Baidyanath Amritarishta
Ayurvedic Granthokta medicine
(Bharat Bhaishajya Ratnakar)
Baidyanath Amritarishta is an effective immune boosting ayurvedic, fermented liquid preparation. It contains over 5 percent of alcohol that is self generated in the preparation over a period of time. This self generated alcohol and the water acts as media to deliver water and alcohol soluble active herbal components to the body effectively. It helps the body combat bacteria, viruses, and other germs and boost immunity.
Legal Metrology Info
Country of Origin: India
Expiry date: 9 years 11 months from the date of manufacturing
Registered Office: Siddhayu Ayurvedic Research Foundation Pvt Ltd, Shree Baidyanath Ayurved Bhawan, Great Nag Road, Nagpur, Maharastra 440024
For queries contact:
Customer care manager:
Contact no: 8550900761 /8448444935
Email id: care@baidyanath.info
Address: Shree Baidyanath Ayurved Bhawan, Great Nag Road, Nagpur, Maharastra 440024
Key Ingredients
Giloy: Immunity booster, rejuvenator, treats chronic fever, Improves digestion, helps control blood sugar levels, adaptogen, and helps reduce respiratory problems like frequent cough and cold.
Dashmula: Dashmula is a combination of ten roots (Bilva, Agnimantha, Gambhari, Shyonak, Patala, and Shalparni, Prishniparni, Brihati, Kantkari, Gokhru). And is known to reduce inflammation.
Trikatu: Trikatu is a combination of dry ginger, black pepper and long pepper. It is effective for burning Ama (metabolic waste and toxins) which according to ayurveda text is the prime cause of all diseases. It improves digestion and relieves constipation. It stimulates the liver to secrete bile naturally which is vital for digestion and absorption of fat.
Indications
Helps to increase body's ability to fight against infection
Maintain vitality and stamina
Indicated in anemia, jaundice and convalescence
Dosage
3 to 6 teaspoonful with equal quantity of water after meals twice a day or as advised by the physician