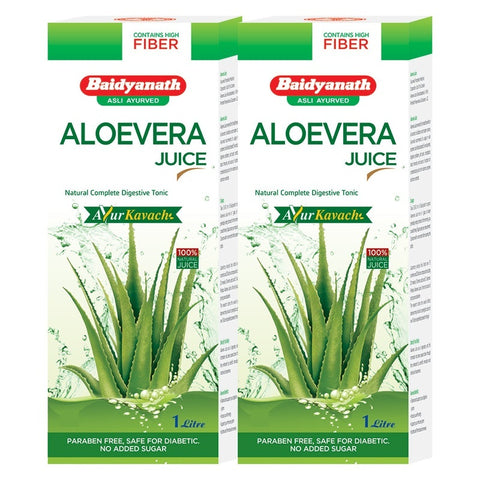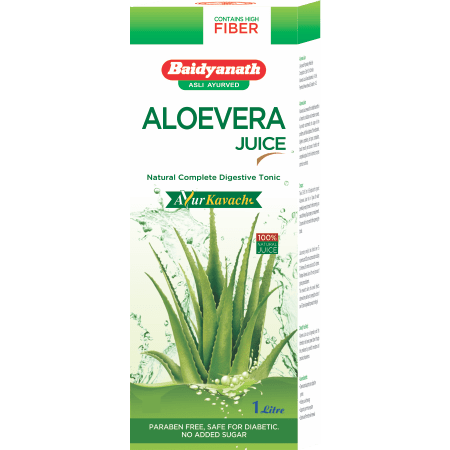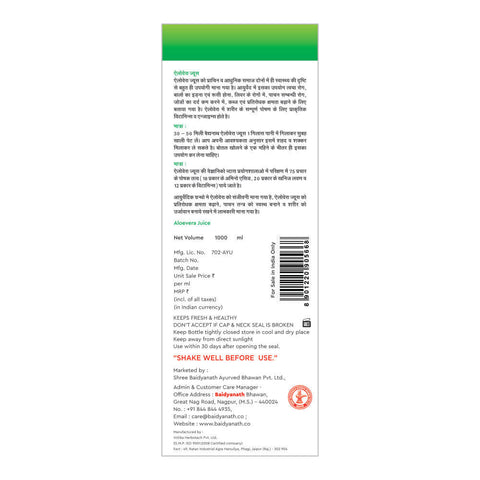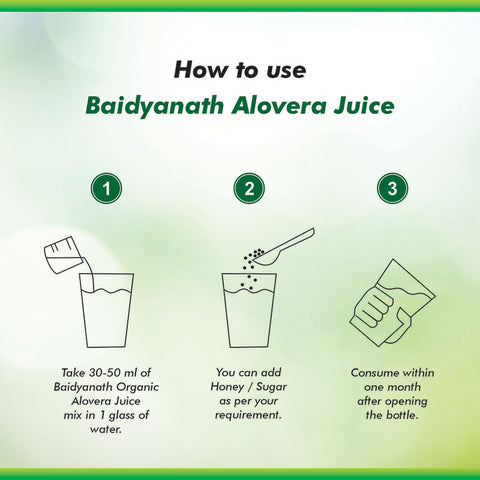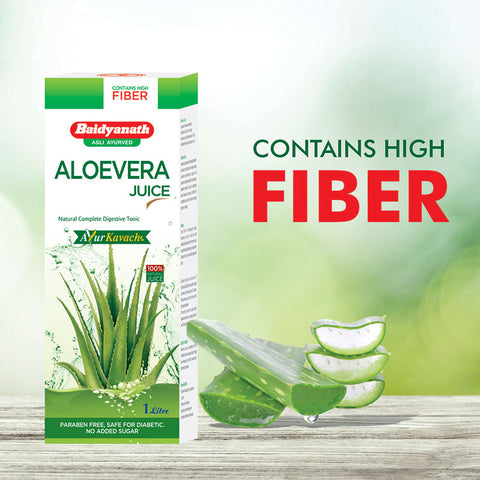 Baidyanath Aloevera Juice (1l)
Baidyanath Aloe Vera Juice with pulp condenses the magical benefits of this herb into a healthy, herbal, and wholesome drink. It boosts immunity, builds a healthy digestive system, and gives relief from constipation. Reduces fat and tones your body. It protects your liver. Alleviates skin allergies.
100 % Safe and Natural
No added Sugar
No Artificial Flavours or Colours
ALOEVERA JUICE Single Pack- 1 Litre
Legal Metrology Info
Country of Origin: India
Expiry date: 1 year and 11 months from the date of manufacturing
Registered Office: Siddhayu Ayurvedic Research Foundation Pvt Ltd, Shree Baidyanath Ayurved Bhawan, Great Nag Road, Nagpur, Maharastra 440024
For queries contact:
Customer care manager:
Contact no: 8550900761 /8448444935
Email id: care@baidyanath.info
Address: Shree Baidyanath Ayurved Bhawan, Great Nag Road, Nagpur, Maharastra 440024
Key Ingredients
Aloe vera contains……………
Vitamins — Vitamins A (beta-carotene), C and E., vitamin B12, folic acid, and choline.
Enzymes — It contains 8 enzymes: aliiase, alkaline phosphatase, amylase, bradykinase, carboxypeptidase, catalase, cellulase, lipase, and peroxidase.
Minerals — Chromium, copper, selenium, magnesium, manganese, potassium, sodium and zinc.
Sugars — Monosaccharides (glucose and fructose) and polysaccharides: (glucomannans/polymannose).
Anthraquinones — It provides 12 anthraquinones, which are phenolic compounds.
Fatty Acids — It provides 4 plant steroids; cholesterol, campesterol, β-sisosterol and lupeol.
Hormones — Auxins and gibberellins.
Others — It provides 20 of the 22 human required amino acids and 7 of the 8 essential amino acids..
Health Beverage
Powerful Antioxidant:
Aloe vera gel contains powerful antioxidants, which belong to a large family of substances known as polyphenols. These polyphenols, along with several other compounds in Aloe vera, can help inhibit the growth of certain bacteria that can cause infections in humans. aloe vera has an ORAC value of 115,000 + which equates to over 3,400 per dose!
Immune Health Support:
Aloe vera Juice helps in so many ways to increase immunity. The research about drinking Aloe Vera Juice shows that the polysaccharides in Aloe Vera to be the number one reason for the primary response on immunity system.
Builds Healthy Digestive system:
Aloe vera juice supports a healthy stomach and efficient digestion. Aloe Vera contains Aloin, which is the laxative component of aloe vera and can help relieve constipation, acidity & gas.
Aloe Vera will help maintain healthy intestinal bacteria, assists in the healthy functioning of the digestive tract and supports the immune system.
Flushes out Toxins from the Body
Drinking Aloe Vera juice early in the morning will help you in many ways, right from curing digestive issues to cleaning the system by flushing out toxins from the body.
Excellent for Hair and Skin:
Aloe vera juice promotes hair growth. It helps to maintain smooth, radiant & healthy skin conditions due to loaded nutrients, minerals & essential amino acids.
Lowers blood sugar levels:
Aloe vera regularize blood sugar level.
Powered with Vitamins and Minerals:
Aloe vera juice is loaded with a bevy of vitamins, minerals and antioxidants essential for our body. Aloe vera contains 75 potentially active constituents: vitamins, enzymes, minerals, sugars, lignin, saponins, salicylic acids and amino acids. It contains vitamins A (beta-carotene), C and E, which are antioxidants. It also contains vitamin B12, folic acid, and choline.
It provides calcium, chromium, copper, selenium, magnesium, manganese, potassium, sodium and zinc. They are essential for the proper functioning of various enzyme systems in different metabolic pathways and few are antioxidants.
Improves Eye Site :
This natural juice keeps your eyes well hydrated and prevent conditions like dryness, itchy eyes etc. Dark circles are one of the most common signs in the eye area which are often caused by fatigue, stress, fatigue of the skin, or accumulation of toxins. Aloe vera helps to regulate circulation in the blood, as well as having calming and regenerating properties. Daily consumption of Aloe Vera juice before 30 min of meal two times a day will help to improve your eye sight.
Benefits
Builds healthy digestive system
Natural detoxifier
Excellent for Hair and Skin
Weight management and controls cholesterol Levels
Powered with natural vitamins and minerals
How To Use
Take 30-40 ml of Baidyanath Amla juice mix in 1 glass of water preferably empty stomach in morning. You can add Honey/Sugar as per your requirement. Consume within one month after opening the bottle.